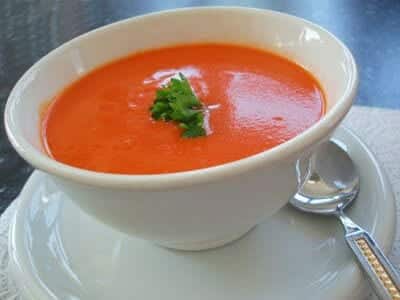 Ingredients:
Onions – 2, finely chopped
Carrot – 1, peeled, finely chopped
Garlic – 1, peeled, crushed
Celery – little, finely chopped
Olive Oil – 2 tblsp
Ripe Tomatoes – 450 gms
Vegetable Stock – 1 litre
Sugar – 1 tsp
Salt as per taste
Pepper Powder as per taste
Basil Leaves – handful, finely chopped
Method:
1. Heat oil in a pan.
2. Add the onions, carrot, celery and garlic.
3. Cover the pan with a lid and cook for 10 minutes.
4. Add sugar, salt, pepper powder and tomatoes.
5. Saute well and cook for another 5 to 8 minutes.
6. Mash the vegetables until pureed or blend them in a blender for a minute. Return to the pan.
7. Pour the vegetable stock and boil for 10 minutes.
8. When it starts to bubble, add the basil leaves and stir well.
9. Pour into individual serving bowls.
10. Garnish with a basil leaf and a dollop of cream or bread croutons.
11. Serve hot.
image via miss posh