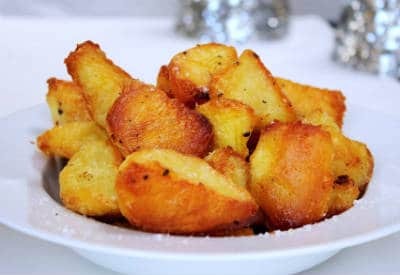 Ingredients:
Potatoes – 1 kg
Turmeric Powder – 1/2 tsp
Maidaa – 1 tblsp
Corn Flour – 1/2 tblsp
Paprika – a pinch
Sunflower Oil – 1/4 cup
Butter – 1/4 cup, melted
Sea Salt as per taste
Method:
1. Peel the potatoes and chop them into bite-sized chunks.
2. Heat a pan of salted water over medium flame.
3. Add 1/4 tsp turmeric powder and bring to a boil.
4. Reduce flame and add the potatoes.
5. Simmer for 5 minutes.
6. Drain well and keep aside to cool.
7. In a separate bowl, mix the maida, corn flour, paprika and turmeric powder.
8. Add the drained potatoes and mix well until evenly coated.
9. Heat oil and butter in a large frying pan.
10. Carefully add the potatoes (in batches) and cook until golden, turning from time to time.
11. Remove and drain excess oil.
12. Sprinkle sea salt.
13. Serve hot as a side dish or as a snack with ketchup.