Delicious and simple brownies with a peppermint frosting.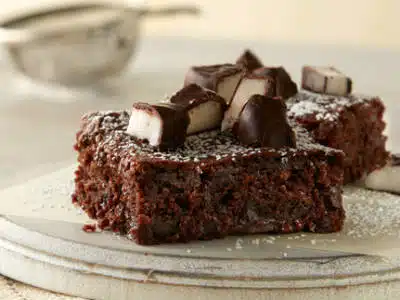 Ingredients:
Chocolates – 30 gms, unsweetened, chopped
Egg – 1
Vanilla – 1 tsp
Maida – 1/4 cup
Butter – 1/4 cup, unsalted
Salt – 1/4 tsp
Sugar – 1/2 cup
Walnuts – 2 tblsp, toasted, chopped
Almonds – 2 tblsp, toasted, chopped
For the frosting:
Icing Sugar – 1 cup
Peppermint Extract – 1/2 tsp
Whipping Cream – 2 tblsp
Butter – 2 tblsp, unsalted, soft
For the topping:
Chocolate – 2 to 3 tsp, broken, melted
Butter – 1/2 tblsp, unsalted, melted
Method:
1. To make the brownie, melt the butter and chocolate in a bowl over a pan of simmering water.
2. Stir well until smooth.
3. Remove and cool.
4. Beat the egg, sugar and vanilla until well blended.
5. Add the melted chocolate and mix.
6. Combine maida and salt. Add to the mixture.
7. Blend until moistened.
8. Add the almonds and walnuts. Gently mix.
9. Pour into a buttered cake pan and bake for 15 minutes in a preheated oven at 180C/350F or until a skewer inserted into the center comes out clean.
10. Remove and place it on a rack.
11. Meanwhile, mix the butter, cream sugar and peppermint extract until smooth and has a spreading consistency.
12. Spread this over the brownie.
13. Mix the topping ingredients until smooth and drizzle over the brownie.
14. Keep aside to cool and set.
15. Cut into bars and serve.