A simple and easy to make homemade vegetable pizza. Feel free to add any vegetables as required. Pizzas are a great comfort food ideal for lunch, dinner, evening snacks or even a sunday brunch.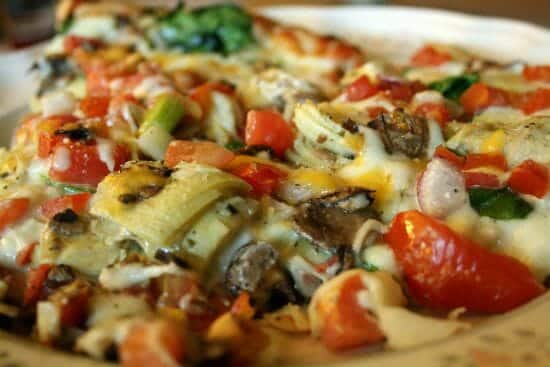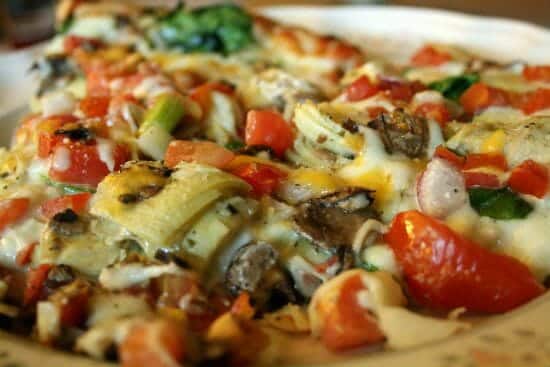 Ingredients:
Pizza Base – 1 or 2 (use readymade base or make one at home with this recipe or this or this)
Cauliflower – 1 cup, chopped
Brinjal – 1/4 cup, chopped
Onion – 1/4 cup, chopped
Carrot – 1/4 cup, chopped
Capsicum – 1/4 cup, sliced
Spinach – 1/2 cup, chopped
Tomatoes – 1, finely chopped, seeds removed
Pizza Sauce (or Tomato Ketchup) – 1/2 cup
Lemon Juice – 2 tsp
Garam Masala Powder – 1 tsp
Chaat Masala Powder – 1/4 tsp
Garlic – 1 tsp, minced
Olive Oil – 1/2 tsp
Cheese – handful, grated (optional)
Black Olives – few, chopped (optional)
Method:
1. Mix the pizza sauce, garlic, garam masala powder, chaat masala powder, turmeric powder and lemon juice.
3. Heat oil in a non-stick pan.
4. Saute the cauliflower, brinjals, carrots and onions.
5. Spread the sauce mixture on the pizza base, reserving some of the sauce.
6. Top up with the vegetables and tomatoes.
7. Drizzle the remaining sauce over the toppings.
8. Bake in a preheated oven for 10 minutes or until the crust is golden brown and crisp.
9. Remove and serve sliced.