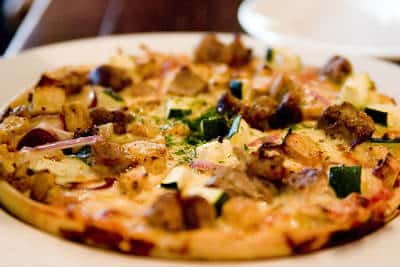 Ingredients:
Thincrust Pizza Base – 1
Minced Lamb – 150 gms
Garam Masala Powder – 1 tsp
Chaat Masala Powder – 1 tsp
Red Onion – 1, sliced
Mint Leaves – handful, chopped
Tomato – 1, sliced
Mozzarella Cheese – 1/4 cup, grated or crumbled
Green Capsicum – 1/2, finely chopped
Black Olives – 1 tsp
Black Pepper Powder as per taste
Tomato Sauce – 1 tblsp
Olive Oil – 1 tsp
Method:
1. Heat oil in a nonstick frying pan over medium flame.
2. Add the lamb mince and cook for 2 minutes or until browned.
3. Add the garam masala powder, chaat masala powder and pepper powder.
4. Mix well and remove. Allow it to cool and crumble the mixture if desired.
5. Spread tomato sauce on the pizza base.
6. Sprinkle the lamb mixture evenly.
7. Top up with onions, olives, tomato and capsicums.
8. Sprinkle cheese and mint leaves on top.
9. Place the pizza onto a preheated oven at 220C/475F and cook for 3 to 5 minutes or until cheese melts and is light golden.
10. Remove and cut into slices.
11. Serve.
Tip: Add/remove toppings as desired.