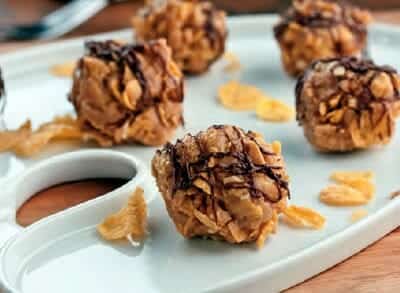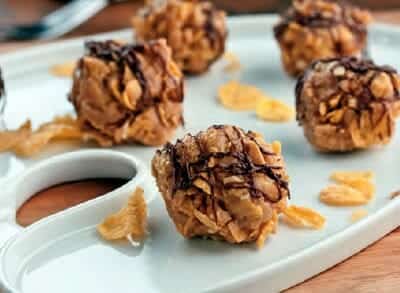 Ingredients:
Cornflakes – 3 cups
Peanut Butter – 250 gms
Corn Syrup – 1/2 cup
Sugar – 1/2 cup
Peanuts – 2 tblsp, chopped
Chocolate Chips – 1/4 cup, melted
Method:
1. Heat a pan over medium flame.
2. Add the sugar and corn syrup.
3. Bring to a boil, stirring all the time.
4. Remove the pan from the flame and add the peanut butter.
5. Mix well.
6. Combine the cornflakes and peanuts in a bowl.
7. Pour the peanut butter mixture and mix well until evenly combined.
7. Make small balls of the mixture and place them on a tray lined with parchment paper.
8. Drizzle the melted chocolate over the cookies and keep aside to cool.
9. Once the chocolate is set, store them in an airtight container.