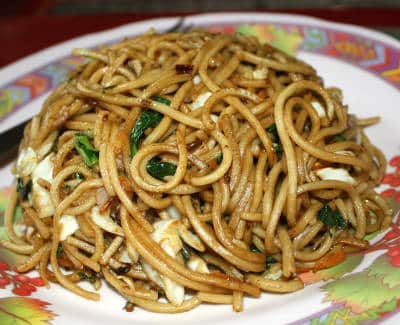 Ingredients:
Eggs – 3
Plain Noodles – 1 packet, cooked as per instructions
Onion – 1, big, finely chopped
Baby Corn – 2, halved or quartered
Carrot – 1, finely chopped
Capsicum – 1, finely chopped
Cabbage – 100 gms, finely grated
Pepper Powder – 1/2 tsp
Red Chilli Powder – 1/2 tsp
Tomato Sauce – 1 tblsp
Soy Sauce – 1/2 tblsp
Spring Onions – 3 tblsp, finely chopped
Salt as per taste
Oil as requested
Method:
1. Break the eggs in a bowl.
2. Add salt and pepper powder.
3. Whisk well.
4. Heat a non-stick pan over medium flame.
5. Make omelette and cut them into small pieces.
6. Keep aside in a warm place until required.
7. Heat oil in a pan over medium flame.
8. Saute the vegetables for a minute or two.
9. Add salt, pepper powder, tomato sauce, soy sauce and simmer over low flame for 2 minutes.
10. Add the boiled noodles and mix well.
11. Add the omelette pieces and stir well.
12. Remove after 2 minutes.
13. Garnish with spring onions.
14. Serve.
Tip: You can also break the eggs directly into the pan and cook until eggs are done.
Subscribe to our Newsletter
Receive the latest recipes & kitchen tips !