These festive cupcakes are a favourite of kids.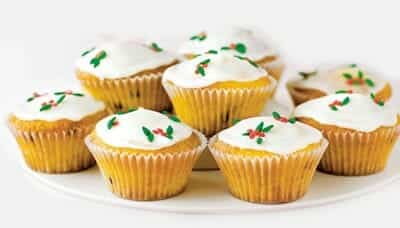 Ingredients:
Caster Sugar – 1 1/2 cups
Eggs – 3 to 4 (depending on size)
Vanilla Essence – 2 tsp
Butter – 250 gms
Dark Chocolate – 1/2 cup, chopped
Maida – 4 cups
Milk – 1 cup
Cupcake moulds – lined with paper cases
Glazed Cherries to garnish (available in stores)
For the icing:
Icing Sugar – 3 cups
Water – 1/4 cup, boiling
Butter – 40 gms
Method:
1. Blend the butter and sugar in a bowl until light and fluffy.
2. Add the eggs and beat well.
3. Add the vanilla essence and chocolate.
4. Mix well.
5. Add the maida and milk.
6. Mix well.
7. Spoon the mixture into the moulds till 3/4th full.
8. Place them in a preheated oven at 190C/380F and bake for 10 to 15 minutes or until a toothpick inserted in the center comes out clean.
9. Remove and cool.
10. To make the icing, transfer the icing sugar to a bowl.
11. Pour the boiling water and butter.
12. Mix well until smooth and shiny.
13. Spread this on top of the cupcake.
14. Garnish with glazed cherries.
Tip: Use your imagination to garnish the cake.