The perfect dessert for any occasion!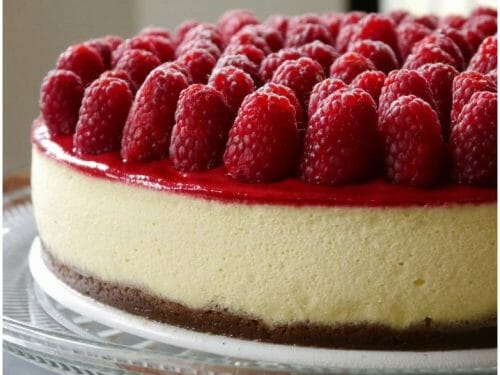 Raspberry Cheesecake is a dessert that has a rich and creamy cheese filling with a sweet and delicate crust. It is made by combining cream cheese, butter, sugar, eggs, vanilla extract and flour.
The recipe for this dessert is simple, but there are many variations that you can try. You can make it with a graham cracker crust or without one, use cream cheese or sour cream as the base, and top it with raspberry jam or fresh berries. The possibilities are endless!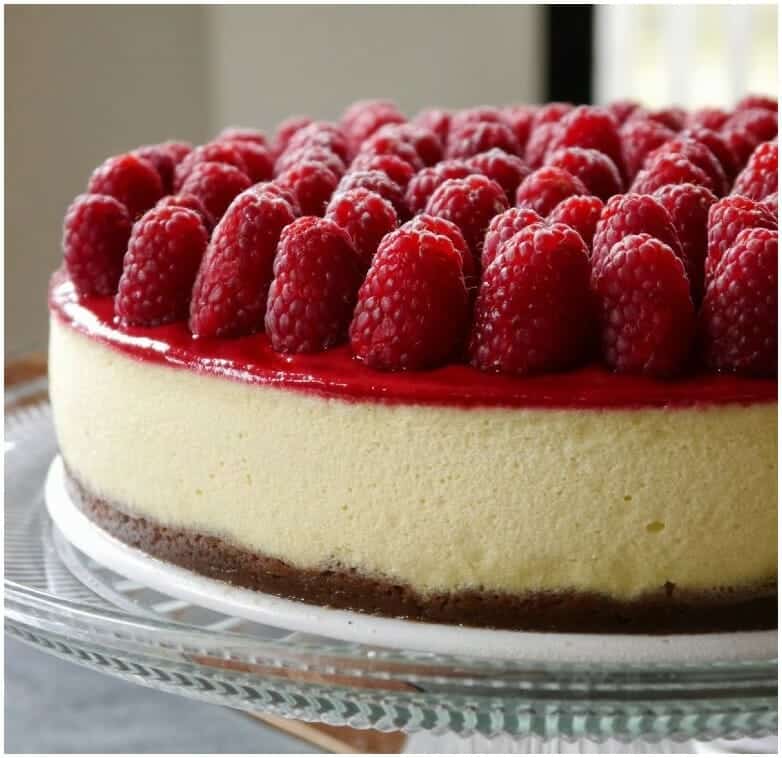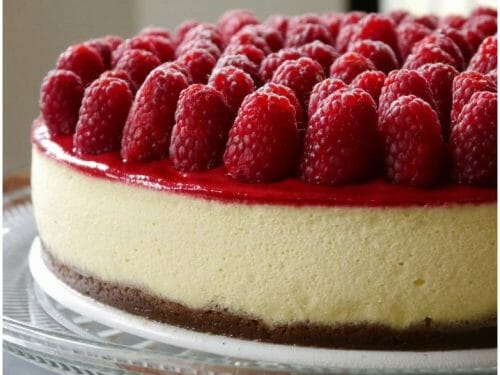 Raspberry Cheesecake

Recipe

The perfect dessert for any occasion!
Ingredients for
Raspberry Cheesecake
For the Raspberry Sauce
1 to 1 1/4

cup

Fresh Raspberries

2

tbsp

Granulated Sugar

3/4

tsp

Cornstarch
For the Graham Cracker Crust
5

Whole Graham Crackers

broken

1/4

cup

Almonds

toasted

2 to 2 1/4

tbsp

Granulated Sugar

2 1/2

tbsp

Butter

melted
For the Cheesecake
500

g

Cream Cheese

1/3

cup

Granulated Sugar

1/4

cup

Sour Cream

1/2

tbsp

Cornstarch

2

Large Eggs

1 1/2

tbsp

Orange Juice

1/2

tsp

Vanilla Extract
For the Raspberry Cheesecake Topping
1 to 1 1/4

cup

Fresh Raspberries

1

tbsp

Confectioners Sugar
How to make
Raspberry Cheesecake
To make the raspberry sauce, puree the raspberries in a blender until smooth.

Press through a mesh sieve to remove the seeds.

Pour it into a measuring cup and add enough water to make 1 cup, if necessary.

Whisk raspberry puree, sugar and cornstarch in a small saucepan until blended.

Bring to a boil over medium-high heat and cook, stirring constantly, 1 to 2 minutes or until slightly thickened.

Remove from heat and let cool.

To make the Graham Cracker Crust, Preheat oven to 350°F.

Blend the graham crackers, almonds and sugar in a food processor to make fine crumbs.

Add 1 to 2 tablespoons raspberry sauce and melted butter.

Blend until combined.

Press mixture onto bottom of 9 x 3-inch spring-form pan with removable bottom.

Bake for 10 minutes.

Cool completely.

Reduce oven to 325°F.

To make the cheesecake, combine the cream cheese, sugar, sour cream and cornstarch in a large mixing bowl.

Mix well for a minute or two.

Add the eggs one at a time.

Pour in orange juice concentrate and vanilla.

Fold it into the prepared crust.

Set the spring-form pan on a piece of wide heavy-duty aluminum foil.

Fold the foil carefully up the sides of the pan without tearing it.

Set the pan in a large baking dish or roasting pan and place on oven rack.

Pour in enough boiling water to reach halfway up sides of the spring-form pan.

Bake 40 minutes to 1 hour at 325°F.

Turn off oven and leave the oven door open.

Let it cool in the oven for 1 hour.

Gently remove from oven and cool completely.

Remove from spring-form pan.

Heat the remaining raspberry sauce until warm.

Spread evenly over top of cheesecake.

Refrigerate it for 1 hour.

Top cheesecake with remaining raspberries and dust with confectioners' sugar.