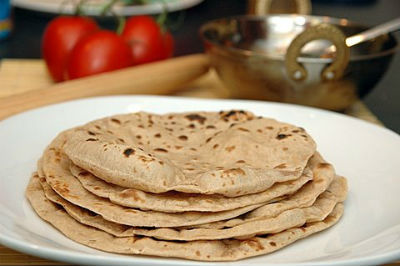 Ingredients:
Wheat Flour – 500 gms
Vendhaya Keerai – 1 cup, finely chopped
Mulai Keerai – 1 cup, finely chopped
Palak Keerai – 1 cup, finely chopped
Mint Leaves – few
Sambar Powder – 1 tsp
Garam Masala Powder – 2 tsp
Coconut – 1/2 cup, grated
Turmeric Powder – 1/2 tsp
Cumin Seeds – 1 tsp
Green Chillies – 6, ground to a paste
Salt as per taste
Oil as required
Ghee as required
Method:
1. Heat little oil in a pan.
2. Fry the cumin seeds for 30 seconds.
3. Add all the keerai varieties and stir well.
4. Cover the pan with a lid and cook for a few minutes.
5. Add mint leaves, sambar powder, garam masala powder, coconut, turmeric powder, green chillies and salt.
6. Mix well and remove to a bowl.
7. Add the wheat flour and mix well.
8. Add a little ghee and enough water.
9. Knead to a thick, pliable dough.
10. Keep aside for 15 to 20 minutes and make small balls of the dough.
11. Roll them into medium chapatis.
12. Heat a tawa over medium flame.
13. Cook the prepared chapatis on both sides and remove.
14. Apply a little ghee on top and serve at once with side dish of choice.
Note: image is for illustration purposes only and not that of the actual recipe.