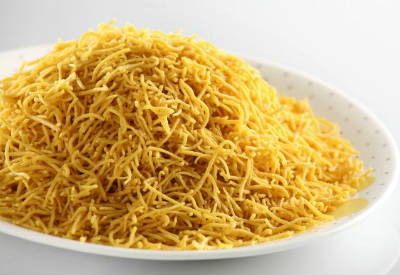 Ingredients:
Maida – 3 cups
Besan Flour – 1 cup
Omam (Ajwain) – 2 tsp
Black Pepper Powder – 1 1/2 tsp
Salt – 1 1/2 tsp
Butter – 1 tsp
Asafoetida Powder – 1/2 tsp
Oil – 250 ml
Method:
1. Sieve the maida and tie it up in a cloth.
2. Steam cook the maida and remove.
3. Spread it out on a cloth and then sieve well.
4. Sieve the besan separately.
5. Soak the omam for 30 minutes and grind to a smooth paste. Then add some water and strain well.
6. Combine the maida, besan, salt, pepper powder, asafoetida powder and strained omam water.
7. Add butter and mix well.
8. Gradually add little water and mix well to a thick, pliable dough.
9. Add some of the dough to a omapodi maker.
10. Heat oil in a deep pan.
11. Press the omapodi maker over the hot oil and fry till light golden brown.
12. Remove and drain excess oil.
13. Store in an airtight container.