Bruschettas are a popular Italian snack made with crusty bread topped with tomatoes and cheese.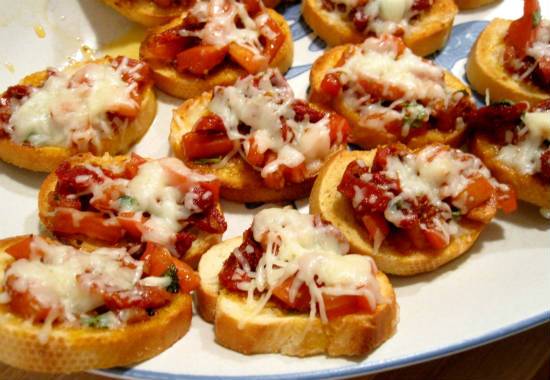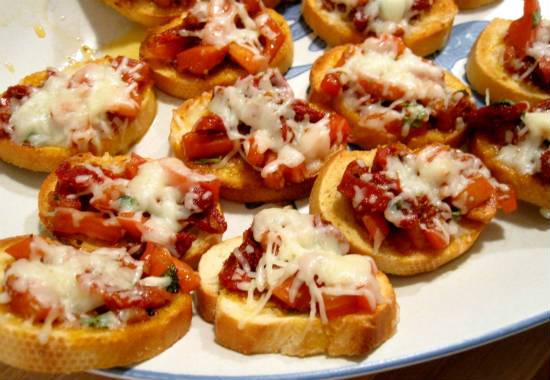 Ingredients:
Tomatoes – 1 1/2 cup, diced
Onion – 3/4 cup, minced
Garlic – 1 tsp, minced
Basil Leaves – 1/4 cup, finely chopped
Salt – 1/4 tsp
Pepper – 1/4 tsp
Olive Oil – 1/4 cup
French Baguette – sliced crosswise
Parmesan Cheese – 1/3 cup, finely grated
Method:
1. In a medium bowl, mix together the tomatoes, onion, garlic, basil, salt and pepper with 1 tblsp olive oil.
2. Cover and refrigerate for 2 to 3 hours.
3. Just before serving, preheat the broiler to 500F/260C and brush top side of bread slices lightly with 3 tblsp olive oil.
4. Place on an ungreased baking sheet in the top third of the oven (but not directly under the broiler) and broil for 1 to 2 minutes to lightly brown them.
5. Place Bruschetta topping in a medium-large non-stick skillet and heat on medium-low for 3 to 4 minutes, stirring occasionally to warm through.
6. Do not overcook – mixture should remain raw and crunchy.
7. Evenly spread each piece of baguette with 1 tblsp topping and sprinkle with 1/2 tsp Parmesan cheese.
8. Serve immediately while still warm.