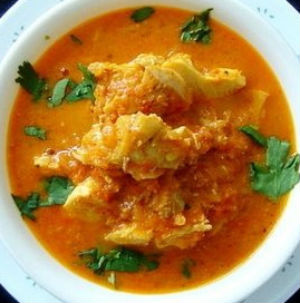 Ingredients:
Chicken – 1, small, chopped into small pieces, cleaned, washed
Onion – 1, pureed
Almonds – 6 to 10, blanched, peeled, ground to a paste
Raisins – few, seedless
Saffron Strands – few
Milk – 1/4 cup
Bay Leaf – 1/2
Ghee – 1/2 tsp
Salt as per taste
For the marinade:
Garlic – 3 to 4 cloves
Ginger – 1/4 inch piece, peeled
Saunf – 1/2 tsp
Cinnamon – 1 half inch stick
Cloves – 2
Cardamoms – 2
Curd – 1 cup, whisked
Method:
1. Heat a pan over medium flame.
2. Dry roast the marinade ingredients except curd and grind them to a fine paste with a little water.
3. Transfer the chicken to a large bowl.
4. Add the ground paste and curd.
5. Gently rub them on to the chicken pieces ensuring they are coated well.
6. Cover and keep it in the fridge for 4 hours.
7. After 4 hours, remove the chicken and sprinkle salt on top.
8. Heat 1/4 tsp ghee in a pan.
9. Add the bay leaf and pureed onion.
10. Saute until golden brown.
11. Add the marinated chicken pieces and fry till golden.
12. In a separate bowl, warm the milk till hot and add the saffron strands.
13. Switch off the flame and mix well.
14. Reduce the flame for the chicken and cover the pan with a lid.
15. Simmer for 20 minutes or till the chicken is cooked.
16. Now pour the saffron milk and gently mix well.
17. Simmer uncovered for another 15 to 20 minutes or until the gravy has a light yellow colour and chicken pieces are nicely coated.
18. Heat the remaining ghee in a pan.
19. Fry the raisins and almond paste for 30 seconds.
20. Add to the chicken and mix well.
21. Remove the bay leaf and stir well.
22. Transfer to a serving dish.
23. Serve hot with naan or roti or rice.
image credit: bizbrowse.com