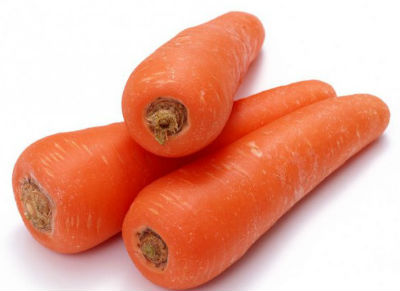 Ingredients:
Carrots – 3, peeled, sliced into thin sticks or grated
Coconut Oil – 1 tsp
Mustard Seeds – 1/4 tsp
Curry Leaves – few
Tamarind Extract – 1 tsp, thick
Jaggery – little, grated
Salt as per taste
Lime Juice – 2 to 3 tsp
Coriander Leaves – few, chopped
For the masala:
Coconut Oil – 2 tsp
Ginger – 1/4 inch piece, peeled
Green Chillies – 2
Cumin Seeds – 1/2 tsp
Coriander Seeds – 1/2 tsp
Black Sesame Seeds – 1/4 tsp
Chana Dal – 1/2 tsp
Coriander Leaves – few, chopped
Coconut – 1/4 cup, grated
Salt – 1/4 tsp
Method:
1. Heat oil in a pan for the masala.
2. Saute the ginger and green chillies for 30 seconds.
3. Add all the other ingredients and fry for a minute or two.
4. Then grind them to a slightly coarse paste using little water.
5. Keep aside.
6. Heat 1 tsp oil in the pan.
7. Fry the mustard seeds and curry leaves for 20 to 30 seconds.
8. Add the ground masala and add a little water.
9. Saute until the oil floats to the top.
10. Add the tamarind extract and mix well.
11. Add the carrots, salt and jaggery.
12. Stir well until the carrots are well coated with the masala.
13. Add some more water and stir.
14. Cover the pan with a lid and cook for 2 to 3 minutes.
15. Remove the lid and cook for another 3 to 4 minutes.
16. Switch off the flame.
17. Add the lime juice and coriander leaves.
18. Gently mix and remove.
19. Serve.