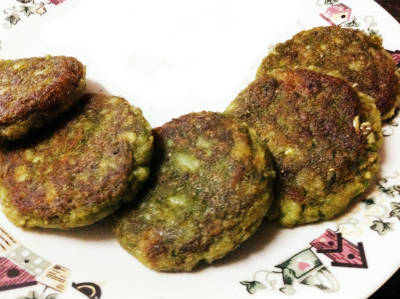 Ingredients:
Potatoes – 2, medium, boiled
Green Peas – 1/4 cup, shelled
Spinach – 1 cup, cleaned, washed, chopped
Cumin Powder – 1/4 tsp
Butter – 1/2 tblsp
Cornflour – 1/2 tblsp
Green Chilli – 1
Coriander Powder – 1/2 tsp
Turmeric Powder – 1/4 tsp
Amchur Powder (Dry Mango Powder) – 1/4 tsp
Ginger – 1 half inch piece, peeled, finely chopped
Garlic – 2 cloves
Coriander Leaves – handful, chopped
Lemon Juice – 1 tsp
Oil as required
Salt as per taste
Method:
1. Heat a pan of water over medium flame.
2. When it starts boiling add the green peas and cook for 2 to 3 minutes.
3. Add the chopped spinach and cook for another minute.
4. Drain the water and place the peas and spinach under cold running water.
5. Drain again and keep them aside to dry.
6. Squeeze out any extra water and transfer them to a blender.
7. Add 1 boiled potato, cumin powder, coriander powder, turmeric powder, dry mango powder, salt, ginger, garlic, green chilli, lime juice and coriander leaves.
8. Add 1/2 tsp of oil and blend to a thick paste.
9. Transfer to a large bowl.
10. Mash the remaining potato and add to the bowl.
11. Add cornflour and mix well. The mixture should be thick and sticky.
12. Shape the mixture, using wet hands, into desired shapes (round or squares or oblong) and place them on a floured plate.
13. Keep them in the fridge for 30 to 35 minutes so that they are firm.
14. Remove them 10 minutes before frying.
15. Heat a non-stick frying pan over medium flame.
16. Add butter and fry the prepared kababs, few at a time, till golden brown and crisp.
17. Remove and drain excess oil.
18. Serve warm with chutney or sauce.