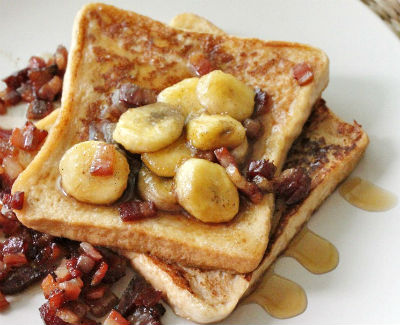 Ingredients:
Bread Slices – 3 to 4
Milk – 1/2 cup
Egg – 1
Honey – 1 tblsp + some more
Vanilla Extract – 1/2 tsp
Cinnamon Powder as per taste
Butter – 1 tblsp, unsalted
Method:
1. Whisk together the milk, egg, honey and vanilla.
2. Pour this over the bread slices and let them soak for 30 to 40 minutes.
3. Heat a pan over medium flame.
4. Melt the butter and ensure it coats the pan evenly.
5. Add the bread slices and cook until browned on the bottom.
6. Flip it over and cook the other side for 2 to 3 minutes.
7. Gently drizzle 1 tsp honey over the top and cook for a minute.
8. Turn and cook the other side, adding little honey if desired.
9. Transfer to a serving plate.
10. Serve at once.
11. If desired, garnish with chopped bananas (or any fruit) and nuts.
image credit: dreamingofdinner.com