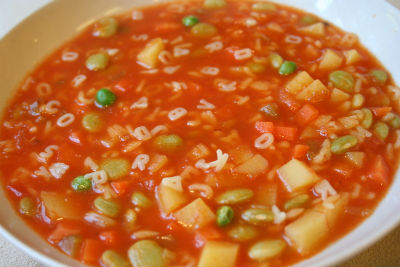 Ingredients:
Alphabet Pasta – 1/2 cup, uncooked
Black Pepper Powder – 1/8 tsp
Oil – 1 tblsp
Onion – 1 cup, chopped
Celery – 1/2 cup, chopped
Carrots – 3/4 cup, peeled, diced
Salt – 1 tsp
Garlic – 1 clove, small, minced
Water – 1 cup
Vegetable Stock – 1 litre (or use plain water)
Method:
1. Heat oil in a large stockpot over medium flame.
2. Add the onions, celery, carrots and salt.
3. Cook for 3 to 4 minutes.
4. Add garlic adn cook for a minute more.
5. Add stock, water and pepper powder.
6. Mix well and cover the pot with a lid.
7. Bring to a boil.
8. Reduce heat to low and simmer uncovered for 25 to 30 minutes.
9. Add the pasta and stir well.
10. Simmer for another 10 minutes or until the pasta is cooked.
11. Pour into individual bowls and serve hot or warm.
Alphabet pasta, also referred to as Alfabeto or Alphabetti Spaghetti, is pasta that has been mechanically cut or pressed into the letters of an alphabet.
Subscribe to our Newsletter
Receive the latest recipes & kitchen tips !