Surati Oondhiyu is a vibrant Gujarati vegetable medley brimming with flavours of coconut, coriander, and spices. It is a must-try for anyone seeking an authentic taste of Indian cuisine.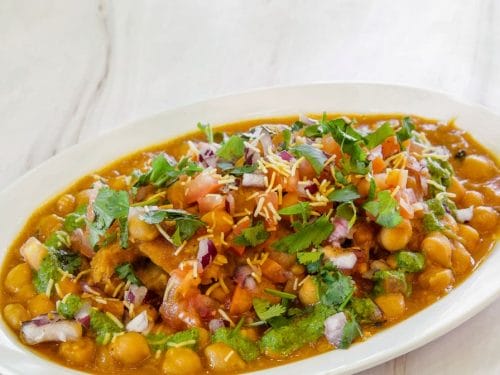 Surati Oondhiyu is a culinary journey to Gujarat, renowned for its vegetarian delicacies. This dish, rich in flavours and colours, combines a variety of fresh vegetables with a unique blend of spices. The result is a heartwarming, healthy, and utterly delicious experience.
Picture a potpourri of tender lima beans, purple yam, brinjals, sweet potatoes, small potatoes, and ripe bananas in a fragrant curry. The magic begins with a unique masala mixture featuring coconut, coriander, ginger, garlic, and a host of spices that lend an exquisite taste to this dish.
Surati Oondhiyu is a harmonious marriage of textures and tastes. The vegetables soak up the flavours of the spices, and the coconut adds a rich, creamy undertone. As you savour each bite, you'll experience the earthy goodness of sweet potatoes, the subtle sweetness of ripe bananas, and the aromatic blend of spices.
This recipe is an ode to Gujarati cuisine's soulful simplicity, and it's perfect for those who crave a hearty, gluten-free, and vegan dish. It's a beautiful main course that can be enjoyed with hot rotis or steamed rice.
If you're a fan of Indian cuisine, Surati Oondhiyu is a must-try. It showcases the brilliance of regional flavours, making it an ideal choice for a family dinner or a special occasion. For those who enjoy exploring Indian dishes, you might also want to try pairing it with Dhokla, Khandvi, or Thepla.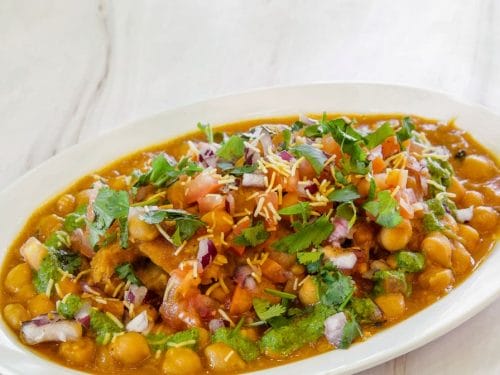 Surati Oondhiyu
Surati Oondhiyu is a vibrant Gujarati vegetable medley brimming with flavours of coconut, coriander, and spices. It is a must-try for anyone seeking an authentic taste of Indian cuisine.
Ingredients
250

gms Lima Beans

Surati Papdi

250

gms Purple Yam

cubed

250

gms Brinjals

Surati Rawaiya

250

gms Sweet Potatoes

sliced thickly

250

gms Small Potatoes

peeled

2

Ripe Bananas

sliced thickly

100

gms Tuvar Beans

200

ml

Milk

60

gms Oil
For the Masala:
75

gms Coconut

grated

250

gms Coriander Leaves

1/2

tsp

Asafoetida

10 to 12

Green Chilli Paste

1

tbsp

Ginger Paste

30

gms Garlic Paste

30

gms Sugar

Salt as required

1/2

tsp

Cumin Seeds

1/2

tsp

Mustard Powder

1

tsp

Red Chilli Powder

1/2

tsp

Turmeric Powder
Instructions
Slit the surati papdi (Lima Beans).

Slit the brinjals and potatoes in a way that they remain attached.

Heat the oil in a deep pan.

Add cumin seeds and mustard seeds. Let them crackle.

Stir in asafoetida, ginger, garlic paste, and grated coconut. Cook for 2-3 minutes until the mixture is fragrant.

Add brinjals, potatoes, sweet potatoes, and purple yam to the pan. Cook covered until they are tender.

Sprinkle turmeric powder, salt, red chilli powder, sugar, and add the ripe bananas. Cook for another 10 minutes.

Garnish your Surati Oondhiyu with chopped coriander leaves.

Serve hot with rotis or steamed rice.
Frequently Asked Questions (FAQ):
What is the origin of Surati Oondhiyu?
Surati Oondhiyu is a traditional Gujarati dish hailing from the western state of India. It's a celebration of regional flavours and vibrant vegetables.
Can I make Surati Oondhiyu without dairy?
Absolutely! This recipe is vegan-friendly. You can replace the milk with a dairy-free alternative, and it will taste just as delicious.
What are some suitable pairings for Surati Oondhiyu?
If you enjoy Surati Oondhiyu, you might also like to try other Gujarati dishes like Dhokla, Khandvi, and Thepla. They complement each other beautifully, creating a diverse and delectable meal.
Is Surati Oondhiyu spicy?
Surati Oondhiyu has a balanced level of spiciness. You can adjust the spice level by adding more or fewer green chillies to suit your taste.
Can I prepare Surati Oondhiyu in advance?
You can make the masala mixture in advance and store it in the refrigerator for a day or two. When you're ready to cook, add it to the vegetables for a quick and convenient meal.
Surati Oondhiyu is a celebration of the rich culinary traditions of Gujarat. It's a dish that combines fresh vegetables' wholesome goodness and a symphony of spices. Whether you're a seasoned lover of Indian cuisine or looking to explore new flavours, this dish is a must-try. Its unique combination of vegetables, spices, and coconut will transport you to the vibrant streets of Gujarat. So, roll up your sleeves, and let's embark on a flavorful journey with Surati Oondhiyu. Enjoy!
Note: image is for illustration purposes only and not that of the actual recipe.