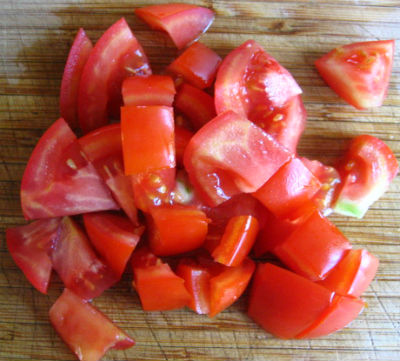 Ingredients:
Tomato Puree – 1 cup
Coriander and Mint Paste – 3 tsp
Ginger Garlic Paste – 3 tsp
Green Chilli Paste – 2 tsp
Ghee – 1/4 cup
Oil – 2 tsp
Basmati Rice – 1 cup, soaked
Coconut Milk – 1 cup
Cashewnut Paste-  1/4 cup
Onions – 1 cup, chopped
Red Chilli Powder – 2 tsp
Coriander Powder – 1 tsp
Salt as per taste
Grind together with little water:
Cardamoms – 2
Cloves – 2
Method:
1. Heat 4 tsp of ghee in a pressure pan.
2. Add 2 tsp oil and place it over medium flame.
3. Add the ground cardamoms – cloves paste, green chilli paste, ginger garlic paste, coriander and mint paste.
4. Fry till the raw smell disappears, about a minute or two.
5. Add the onions and saute for another minute or two.
6. Add red chilli powder and coriander powder.
7. Mix well.
8. Add the tomato puree and cashewnut paste.
9. Add salt and mix well.
10. Add 3 tsp of ghee and rice.
11. Pour the coconut milk and pressure cook till 2 whistles.
12. Reduce flame to low and simmer for another minute.
13. Transfer to a serving dish.
14. Garnish with coriander leaves.
15. Serve hot.
image credit: yankeecook.com