A Gujarati style potato curry in a tangy tomato sauce, the Batata Nu Shaak (or Bateta Nu Shaak) is a popular and classic side dish served with rotis, naan or rice.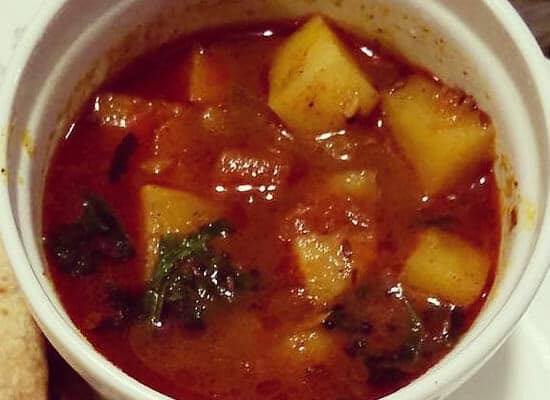 Ingredients:
Potatoes – 250 gms, peeled and cubed
Mustard Seeds – 1/2 tsp
Cumin Seeds – 1/2 tsp
Turmeric Powder – 1/2 tsp
Chilli Powder – 1 tsp
Chilli Paste – 1 tsp
Ginger Paste – 1 tsp
Tomatoes – 4, chopped
Coriander Powder – 1 tblsp
Sugar – 30 gms
Curry Leaves – a few
Asafoetida – a pinch
Salt to taste
For the garnish:
Coriander Leaves – 2 tblsp, chopped
Method:
1. Heat the oil.
2. Add the mustard seeds, cumin seeds, asafoetida, chillies, garlic paste and stir.
3. Add the tomatoes, turmeric powder, chilli powder, coriander powder and mix well. Cook for 5 mins.
4. Add the potaoes and mix well.
5. Add 3 cups of water, sugar and salt.
6. Cover with a lid and cook till the potatoes are done.
7. Garnish with coriander leaves.
8. Serve hot.