Delicious biryani made with Paneer and Vegetables.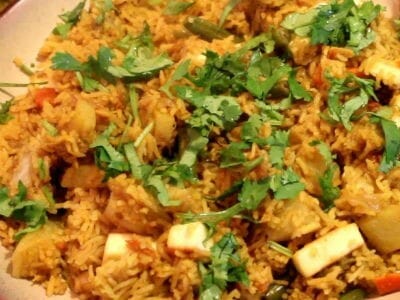 Ingredients:
Paneer – 1/2 cup, cubed
Basmati Rice – 1 cup
Tomatoes – 1/2, chopped
Onions – 1/2 cup, chopped
Potatoes – 1/2 cup, chopped
Red Capsicum – 2 tblsp, chopped
Salt as per taste
Curd – 1 tsp
Oil – 5 tsp
Ginger Garlic Paste – 1 tsp
Ghee – 2 tsp
Cashewnuts – 10, chopped
Grind Together:
Coconut – 6 tsp, grated
Green Chillies – 2
Mint Leaves – 1/4 cup
Coriander Leaves – 1/4 cup
Tomato – 1
Grind to a Powder:
Equal quantities of Cinnamon, Saunf, Gasa Gasa and Cloves
Method:
1. Dry roast the cinnamon, saunf, gasa gasa and cloves for 30 seconds.
2. Grind to a fine powder and keep aside.
3. Grind the coconut, green chillies, tomato, mint leaves and coriander leaves to a smooth paste, adding little water if required.
4. Add the basmati rice to a pressure cooker.
5. Pour 2 cups of water.
6. Add curd, salt, ground powder, ground paste and bring to a boil.
7. Heat oil in a pan.
8. Add the paneer pieces, tomatoes, onions, potatoes, capsicums, ginger garlic paste and saute for a minute.
9. Add to the pressure cooker and cover with the lid.
10. Add the weight and pressure cook for 2 to 3 minutes or until the rice is cooked.
11. Remove the lid and stir to mix the flavours.
12. Fry the cashewnuts in ghee and add to the cooker.
13. Serve hot.