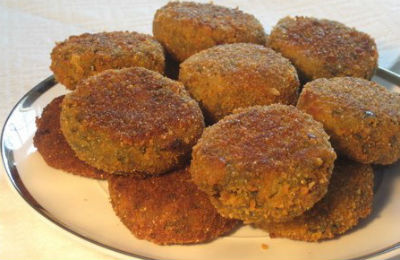 Ingredients:
Spinach – 1 small bunch, washed, finely chopped
Potato – 2, boiled, mashed
Bread Slices – 4, soaked
Ginger Green Chilli Paste – 1 tblsp
Breadcrumbs as required
Maida – 1/2 cup
Cheese – 2 tblsp, grated
Oil as required
Salt as per taste
Method:
1. Soak the spinach leaves in 2 cups of hot water for 2 minutes.
2. Cover the pan with a lid and drain the water.
3. Once cooled, grind the spinach in a mixer and keep aside.
4. Add little water to maida and mix well.
5. Combine potatoes, spinach puree, green chilli ginger paste, cheese, salt and soaked bread slices in a bowl.
6. Make small balls and shape them into desired shapes.
7. Dip them in the maida mixture and roll them in breadcrumbs.
8. Heat oil in a deep frying pan over medium flame.
9. Fry the cutlets till golden brown.
10. Remove and drain excess oil.
11. Serve hot with tomato ketchup.
Note: image is for illustration purposes only and not that of the actual recipe.