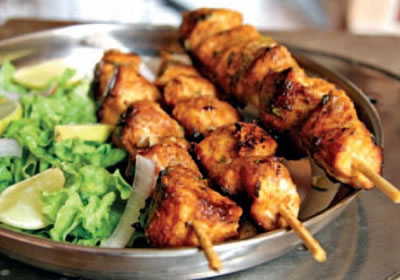 Ingredients:
Chicken Breasts – 1 kg, skinless, boneless, cubed
Cumin Seeds – 1/2 tsp, toasted
Coriander Seeds – 1/2 tsp, toasted
Yogurt – 1 cup
Garlic – 2 to 3 cloves, chopped
Ginger – 1 tblsp, peeled, chopped
Oil – 1 1/2 tblsp + some more for brushing
Lemon Juice – 1 tblsp
Lemon Zest – 1/2 tsp, grated
Turmeric Powder – 1/4 tsp
Garam Masala Powder – 1/2 tsp
Red Chilli Powder – 1/2 tsp
Salt as per taste
Black Pepper Powder as per taste
Lemon Wedges to garnish

Method:
1. Combine and grind the yogurt, coriander seeds, cumin seeds, garlic, ginger, lemon juice and zest, turmeric powder, red chilli powder, garam masala powder, pepper powder, salt and 1 1/2 tblsp oil.
2. Grind to a puree till smooth and keep aside.
3. Transfer the chicken cubes to a large bowl and add the marinade.
4. Evenly coat the chicken pieces and marinate for 6 hours.
5. Skewer the chicken pieces onto wooden skewers and place them on a greased broiler pan.
6. Roast the chicken, turning once, in a preheated oven or broiler for about 10 minutes.
7. Remove when cooked and brown spots appear.
8. Serve hot with lemon wedges.