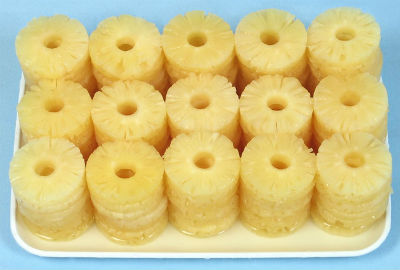 Ingredients:
Fine Rava – 2 cups, roasted till light golden
Moong Dal – 1/2 cup, dry roasted and cooked
Pineapple – 5 to 6 slices, finely chopped
Pineapple Syrup – 1 cup
Sugar – 2 cups
Yellow Food Colour – 1/3 tsp
Coconut Extract – 3 to 4 cups
Ghee – 4 tblsp
Saffron Strands – 1/4 tsp, soaked in 1 tblsp warm milk
Pistachios, Almonds and Cashewnuts – few, chopped
Method:
1. Heat a pan over low flame.
2. Add the rawa and add the coconut to it.
3. Stir and mix gently.
4. Cover the pan with a lid and simmer till rawa is cooked.
5. Combine sugar and pineapple syrup in a bowl.
6. Cook till sugar has melted fully and mix it with the cooked dal.
7. Add yellow food colour, pineapple pieces and mix well.
8. Add the sugar-pineapple syrup to the cooked rawa and stir.
9. Cook for 3 to 5 minutes.
10. In a small frying pan, fry the pistachios, almonds and cashewnuts using little ghee.
11. Add this to the pongal along with the saffron strands.
12. Mix well.
13. Serve.
image credit: made in china