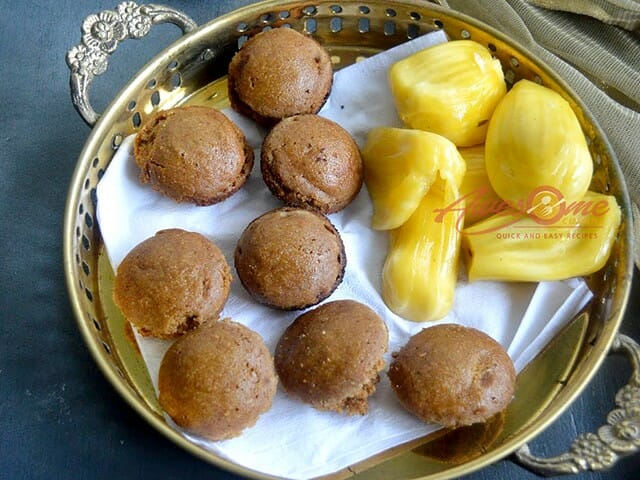 Ingredients:
Wheat Flour – 1 cup
Jackfruit – 1/2 cup, finely chopped and ripe
Salt – 1 tsp
Jaggery – 3/4 cup, grated
Cardamom Powder – 1/2 tsp
Oil and Ghee – Mixed together for frying
Method:
Cook jackfruit in 1/2 cup of water until soft and then mash it properly.
Add jaggery. Allow to melt and remove from fire.
Add salt, cardamom powder, wheat flour and mix well.
Allow to cool. Sprinkle water if necessary and knead the dough well.
Prepare small balls.
Flatten it with hands over a greased plastic sheet.
Heat oil/ghee in a small kadai.
Dip the appam in the centre of the oil.
When it comes up gently turn over.
Remove when it is still soft. Do not allow the appam to become crisp.
After deep frying spread the appams over kitchen paper to remove excess oil.
Arrange on a flat plate side by side.
Allow to cool and then store it in an air-tight container.