Refreshing, tasty and a great way to beat the summer heat.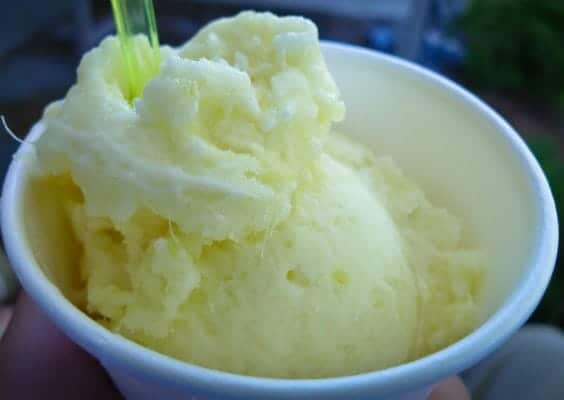 Ingredients:
Pineapple – 1, peeled, cored, chopped
Juice of 3 Limes
Caster Sugar – 500 gms
Lemon Juice – 1 1/2 tblsp
Vanilla Pod – 1, split lengthways
Cinnamon Stick – 1
Water – 500 ml
Method:
1. Grind the pineapple pieces to a puree.
2. Heat water in a large pan.
3. Add caster sugar, lemon juice, vanilla and cinnamon.
4. Bring to a boil and stir until sugar has fully dissolved.
5. Remove from flame.
6. Add the pineapple puree and lime juice into the pan.
7. Stir well and cool.
8. Strain well and transfer to a freezer-safe container.
9. Keep it in the freezer for 2 hours.
10. Remove and break up the ice with a fork until smooth.
11. Repeat this twice and return to the freezer for 4 to 5 hours or until firm.
12. Scoop into a dessert glass.
13. Serve.