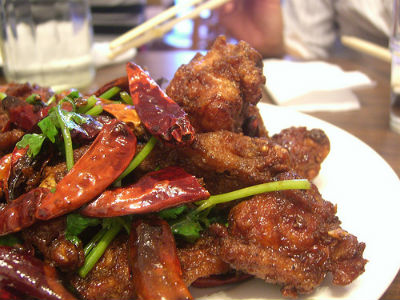 Ingredients:
Chicken – 600 gms, rinsed, dried, cubed
Red Chillies – 4, large, seeded, chopped
Onion – 1, finely sliced
Turmeric Powder – a small pinch
Tamarind Concentrate – 1 1/2 tblsp
Coriander Powder – 1/4 tsp
Salt – 3/4 tsp
Oil – 1 tblsp + some more for deep frying
White Pepper Powder – 1/4 tsp

Method:
1. Mix the tamarind concentrare, turmeric powder, coriander powder, 1/2 tsp salt and white pepper powder.
2. Combine this with the chicken pieces and place it in a sealed bag.
3. Allow to marinate for 2 hours or preferably overnight in the fridge.
4. Heat 1 tblsp of oil in a pan.
5. Saute the red chillies and onions for 3 to 4 minutes.
6. Add salt and mix well.
7. Remove and keep aside to cool.
8. Once cooled, grind to a coarse paste.
9. Meanwhile, remove the chicken pieces and discard the marinade.
10. Deep fry the marinated chicken pieces in hot oil until golden and crispy.
11. Remove and drain excess oil.
12. Transfer them to a large bowl and pour the chilli sauce over it.
13. Toss well to coat all the pieces.
14. Serve.
Note: image is for illustration purposes only and not that of the actual recipe.