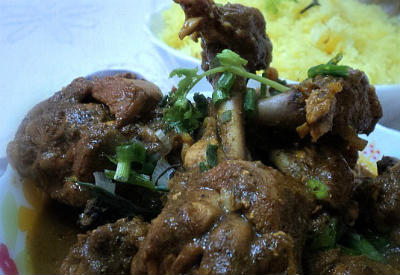 Ingredients:
Chicken – 500 gms, chopped, washed, drained
Ghee – 1/2 tblsp
Brown Cardamom – 1
Cinnamon – 1/4 inch stick
Onion – 1/2, finely chopped
Salt as per taste
Curd – 1/2 cup, whisked
Milk – 1/4 cup
Spring Onion – 1/2, white part only, sliced
Butter
For the marinade:
Oil – 1 tsp
Red Chilli Powder – 1/2 tsp
Turmeric Powder – 1/2 tsp
For the masala:
Oil – 1 tsp
Ginger – 1/4 inch piece
Garlic – 3 cloves
Coriander Seeds – 3/4 to 1 tsp
Cumin Seeds – 1/2 tsp
Black Peppercorns – 1/4 tsp
Cinnamon – 1/4 inch stick
Cloves – 2
Fennel Seeds – 1/4 tsp
Green Chillies – 2
Coriander Leaves – 1/4 cup
Spring Onion – 1, chopped
Red Chilli Powder – 1/2 tsp
Turmeric Powder – 1/4 tsp
Method:
1. Combine all the marinade ingredients in a bowl.
2. Add the chicken pieces and mix well until evenly coated.
3. Cover and keep the bowl in a fridge for 3 to 4 hours.
4. Meanwhile, heat oil for the masala in a pan.
5. Add the ingredients and fry for 2 to 3 minutes.
6. Transfer to a blender and grind to a fine paste, adding little water.
7. Keep aside.
8. Remove the chicken from the fridge and reserve.
9. Heat ghee in a pan.
10. Add the cardamom, cinnamon and fry for a minute.
11. Saute the onions till soft.
12. Add the ground masala and stir-fry until it turns dark green.
13. Add a little water and simmer for a minute, stirring vigorously.
14. Add the chicken pieces and salt.
15. Increase flame to high and cook for 10 to 15 minutes or till the chicken is coated with the masala.
16. Reduce flame and simmer for a minute.
17. Add the curd and cook till the gravy is thick.
18. Add milk and bring to a boil.
19. Reduce flame to low and cover the pan with a lid.
20. Simmer till the chicken is tender and oil starts to rise to the top.
21. Add the spring onions and a dollop of butter.
22. Stir well and remove to a serving bowl.
23. Serve hot with roti or rice.
image credit: josculinaryjourney.blogspot.in