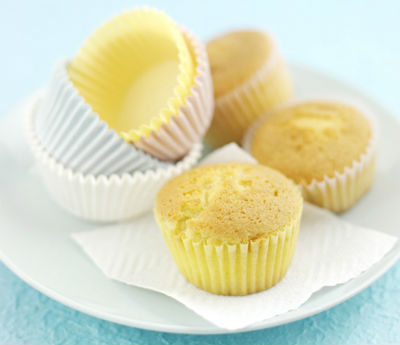 Ingredients:
Butter – 1/2 cup, soft, sweetened
Sugar – 1/2 cup, granulated
Baking Powder – 1 tsp
Eggs – 2, large
Buttermilk – 1/4 cup
Vanilla Extract – 3/4 tsp
Salt as per taste
Cake Mix – 1 cup
Method:
1. Combine all the ingredients in a bowl and beat well till smooth, about 2 minutes.
2. Spoon the mixture into paper cups and place them in muffin pans.
3. Transfer the pans to a preheated oven.
4. Bake them for 20 minutes at 350F/175C.
5. Remove when done and keep aside for 5 minutes.
6. Store in an airtight container.
7. Serve.
Tip: This keeps good for up to 3 days.
To check if the cakes are done, insert a knife or a skewer in the center and if it comes out clean, its done.