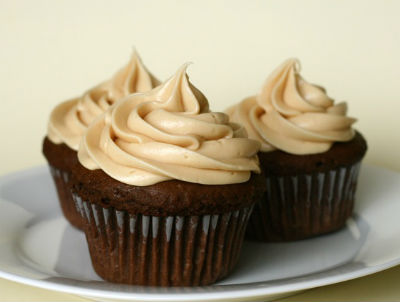 Ingredients:
Butter – 1/2 cup, softened, sweet
Sugar – 1/2 cup, granulated
Cake Mix – 1 cup
Peanut Butter – 1/2 cup, crunchy
Buttermilk – 1/4 cup
Eggs – 2, large
Salt – 1/2 tsp
Baking Powder – 1 tsp
Chocolate – few, chopped, melted (optional)
For the icing:
Peanut Butter – 1/4 cup, crunchy
Butter – 1/4 cup, sweet, soft
Vanilla Extract – 1 tsp
Icing Sugar – 1 cup
Milk – 1 tblsp
Method:
1. Mix butter, sugar, cake flour, baking powder, eggs, buttermilk, chocolate (if using) and eggs in a large bowl.
2. Beat well until smooth and add the peanut butter.
3. Mix till well combined.
4. Spoon the mixture into paper cups and place them in muffin pans.
5. Keep the pans in a preheated oven at 350F/175C.
6. Bake for 20 minutes.
7. Remove and keep aside to cool.
8. Meanwhile to make the icing, combine the peanut butter, vanilla and butter in a bowl.
9. Beat until light and fluffy.
10. Add the icing sugar and milk.
11. Beat until well combined.
12. Swirl the icing on the cupcakes.
13. Serve.