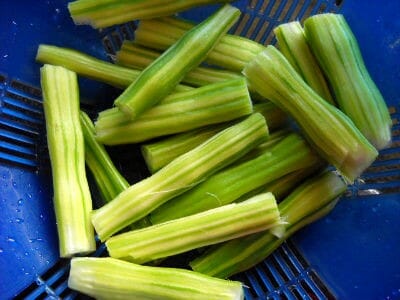 Ingredients:
Tuvar Dal – 1 cup
Turmeric Powder – 1 tsp
Drumsticks – 4 to 5
Tamarind – 1 lemon sized ball
Sesame Seed Oil – 1 1/2 tsp
Salt to taste
For the Masala:
Asafoetida – 1/4 tsp
Fenugreek Seeds – 1/4 tsp
Gram Dal – 1 tblsp
Dried Red Chillies – 3 to 4
Coriander Seeds – 2 tblsp
Coconut – 4 tblsp, grated
For the Seasoning:
Mustard Seeds – 1 tsp
Curry Leaves – 2 sprigs
Method:
1. Heat 1 tblsp in a kadai.
2. Fry asafoetida and fenugreek seeds till they turn brown and remove from kadai.
3. Add gram dal and red chillies, fry till dal turns golden brown.
4. Remove and add coriander seeds, fry for 1 to 2 minutes.
5. Add coconut and fry till coconut turns golden brown. Remove.
6. Grind all these together to a fine paste and set aside.
7. Boil tuvar dal with 1/2 tsp turmeric powder in a pressure cooker. Mash and set aside.
8. Boil tamarind with sufficient water. Cool and extract thick pulp.
9. Boil drumsticks with salt, 1/2 tsp of turmeric powder. Cook till soft.
10. To cooked drumsticks, add tamarind extract, simmer for 1 to 2 minutes and add mashed dal, ground paste, some water and allow the mixture to simmer for 3 to 5 minutes.
11. Season mustard seeds in oil, add curry leaves and add to sambar.
12. Mix well and remove from fire.
13. Serve hot with rice.