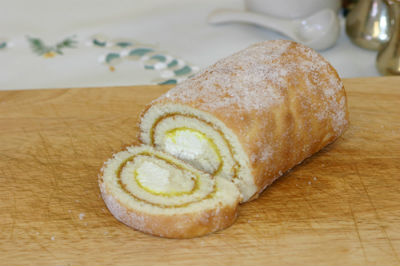 Ingredients:
Eggs – 2, large
Caster Sugar – 50 gms
Maida – 50 gms
Rind of 1/2 Lemon – finely grated
Lemon Curd – 2 tblsp
Method:
1. Combine the eggs, sugar and grated lemon rind in a large bowl.
2. Whisk until the mixture is light and frothy.
3. Add the maida and blend well.
4. Transfer this mixture to a greased cake tin.
5. Place the tin in a preheated oven at 220C and bake for 10 minutes or until golden brown.
6. Remove and invert the cake onto a baking tray (or sheet) sprinkled with caster sugar.
7. Trim the edges with a knife and leave to cool slightly.
8. Spread the lemon curd and roll up the cake firmly.
Tip: Ensure the cake is not too hot while spreading the lemon curd.
If you want, you can substitute lemon rind and lemon curd with orange rind and orange marmalade for an Orange Swiss Roll.
image credit: julia cakes