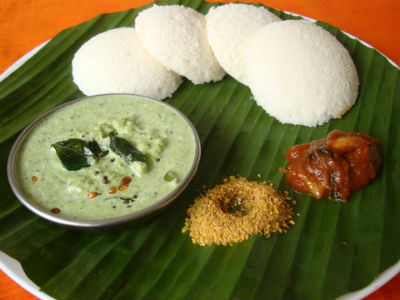 Ingredients:
Urad Dal – 200 gms, soaked for an hour or two
Semolina – 100 gms, soaked for 15 minutes
Fenugreek seeds – 1/2 tsp
Salt as per taste
Mango or Mixed (or any as preferred) Pickle – 1/8 cup
Method:
1. Drain the urad dal and grind to a fine paste.
2. Drain the semolina and combine with fenugreek seeds.
3. Grind the semolina and combine this with the urad dal paste.
4. Add enough water to make a batter of dropping consistency.
5. Add salt and mix well.
6. Pour 1 tblsp of the batter into idli moulds and add some pickle over it.
7. Add another tblsp of the batter and steam cook till done.
8. Serve hot with chutney or milagai podi.