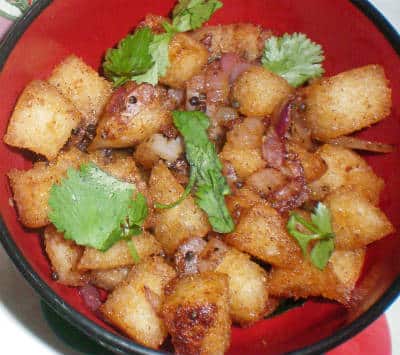 Ingredients:
Idlis – 5 to 6, chopped
Maida (Plain Flour) – 1 tblsp
Gram Flour – 1 tblsp
Corn Flour – 1 tsp
Ginger Garlic Paste – 1 tsp
Red Chilli Powder – 1 tsp
Soy Sauce – 1 tsp
Green Chilli Sauce – 1 tsp
Tomato Sauce – 1 tsp
Kesari Edible Food Colour – a pinch (optional)
Coriander Leaves – few, chopped
Oil as required
Salt as per taste
Method:
1. Mix the maida, corn flour, gram flour, ginger garlic paste, salt, red chilli powder, food colour, soy sauce, green chilli sauce and tomato sauce in a bowl.
2. Add enough water and mix to a thick batter.
3. Heat oil in a frying pan over medium flame.
4. Dip the idli pieces in the batter and fry in hot oil until crisp.
5. Remove and transfer to a serving bowl.
6. Garnish with coriander leaves.
7. Serve with tomato sauce.