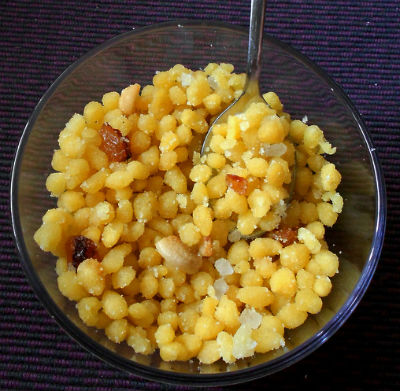 Ingredients:
Gram Flour – 1 cup
Sugar – 1 1/2 cups
Cashewnuts – 15, fried in ghee
Raisins – 20, fried in ghee
Kesari Powder – a small pinch
Green Food Colour – a small pinch
Yellow Food Colour – a small pinch
Cloves – 5, fried
Edible Camphor – a pinch (Pachai Karpooram)
Water – as required
Ghee – 4 tsp
Cardamom Powder – 1/4 tsp
Method:
1. Mix the gram flour with enough water to make a batter that is little thick but fluid consistency (bajji maavu consistency).
2. Divide this into three portions.
3. Add kesari powder to one portion, green colour to another and yellow colour to the third.
4. Heat oil in a pan.
5. Using a perforated spoon drop small droplets of the batter into the oil and fry till golden. Remove and drain excess oil.
6. Make sugar syrup with the sugar and water.
7. Transfer the boondi to the sugar syrup and remove after 3 to 4 minutes.
8. Mix the cashews, raisins, cloves, cardamom and camphor with the boondi.
9. Mix well until well combined.
10. Serve.
Note: image is for illustration purposes only and not that of the actual recipe.
Image credit: home cook's