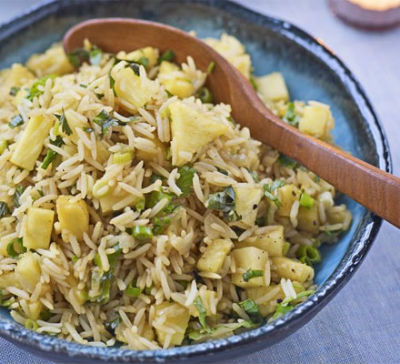 Ingredients:
Pineapple – 1, medium, ripe, cut into halves lengthwise
Sugar – 2 tblsp
Rice – 1/4 cup
Juice and Zest of 1 Lemon – small
Ginger – 1 tsp, chopped, soaked in sugar syrup and dried
Cashewnuts – 1 1/2 tblsp, roasted, chopped
Salt as per taste
Method:
1. Dice the pineapple flesh from one half and puree the other half with sugar and salt.
2. Keep aside.
3. Strain the puree into a cup and add enough water to make 3/4 to 1 cup.
4. Transfer to a pan and bring to a boil over medium heat.
5. Add the rice and stir.
6. Now add the lemon juice and zest, 1/2 tsp of ginger and bring to a boil.
7. Reduce heat and cover with a lid.
8. Simmer until all liquid has been absorbed.
9. Add the diced pineapple to the rice and stir to mix well.
10. Spoon the rice into a serving plate.
11. Garnish with remaining ginger and cashewnuts.
12. Serve.