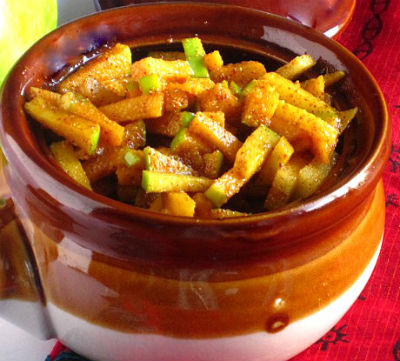 Ingredients:
Green Apples – 5 to 6, small, cooking variety, quartered, cored
Salt – 3/4 tsp
Garlic – 3 to 4 cloves, thinly sliced
Ginger – 3/4 inch piece, sliced thinly
Oil – 4 tblsp
Vinegar – 1/8 cup
Sugar – 1 to 1 1/2 tblsp
Pickle Masala – 1 tsp
Method:
1. Apply salt to the apple and keep them aside in a bowl for 3 days.
2. Ensure they are covered and are stirred everyday.
3. Heat oil in a pan.
4. Fry the ginger and ginger lightly.
5. Remove and keep aside.
6. Add vinegar to the pan and bring to a boil.
7. Add sugar and stir till it dissolves.
8. Add the apple brine and pickle masala.
9. Bring to a boil and simmer on low heat for a minute or two.
10. Cool the syrup and add the pickled apple pieces.
11. Transfer to a clean jar and use as required.
image credit: tamalapaku
Subscribe to our Newsletter
Receive the latest recipes & kitchen tips !