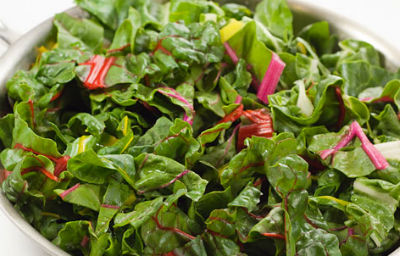 Ingredients:
Chicken Breasts – 2, boneless, skinless
Garlic Salt – 1/2 tsp
Breadcrumbs – 1/2 cup
Egg – 1, small, beaten with 1/2 tblsp water
Sunflower Oil – 1 tblsp
Butter – 2 tblsp
Flour – 2 to 3 tblsp
Chicken Stock – 2 cups
Lemon Juice – 1 to 1 1/2 tblsp
Swiss Chard – 175 gms, stems removed, leaves roughly chopped
Salt as per taste
Pepper Powder as per taste
Garlic – 2 cloves, finely chopped
Method:
1. Season the chicken breasts with garlic salt and place in a shallow bowl.
2. Heat oil in a large pan over medium heat.
3. Dip the chicken breasts in the egg and then in the breadcrumbs.
4. Put them in the pan and cook for 2 to 3 minutes on each side or until golden brown.
5. Transfer them to a baking tray and keep aside.
5. Melt the butter in the pan.
6. Add the garlic and stir for 30 seconds.
7. Add the flour and cook for 30 seconds.
8. Gently add the stock, stirring till smooth.
9. Now add the lemon juice and cook till the sauce has thickened.
10. Add salt and pepper.
11. Pour this over the chicken breasts and bake in a preheated oven at 165C/325F for 30 minutes or until the chicken is cooked.
12. In a separate large pan, pour enough water to cover the bottom and bring to a simmer over medium flame.
13. Add the chard and cook for 5 to 8 minutes or until soft.
14. Drain and keep warm.
15. To serve, place a chicken breast and some chard on a plate.
16. Spoon the sauce over and serve at once.
Note: Chard is a leafy vegetable and is commonly called as Sencheerai in Tamil, Bacchala Kura in Telugu and Cukkandar in Hindi.
Note: image is for illustration purposes only and not that of the actual recipe.