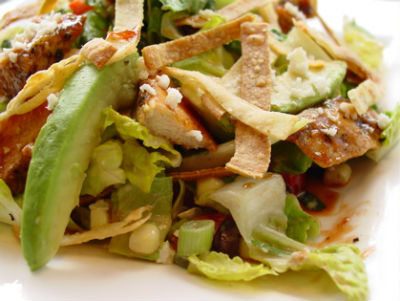 Ingredients:
Chicken Breasts – 250 gms, boneless, skinless
Barbecue Sauce – 1/3 cup
Cos Lettuce – 1 head, cut into bite-size pieces
Tomatoes – 1, cut into small pieces
Jicama – 1/4, small, peeled, cubed (or use Radish or Water Chestnut)
Mayonnaise – 1/8 cup
Sweet Corn Kernels – 200 gms, boiled, drained
Coriander Leaves – 1/3 cup, chopped
Method:
1. Grill or barbecue the chicken breast for 8 to 10 minutes or cooked.
2. Remove and cool.
3. Then cut into 1/2 inch cubes.
4. Mix the chicken with 3/4th of the barbecue sauce in a bowl and keep aside.
5. Mix the remaining barbecue sauce with the mayonnaise.
6. Place some of the lettuce leaves on serving plates.
7. Sprinkle the tomato, coriander leaves, jicama and corn over it.
8. Top with the barbecued chicken.
9. Serve with the dressing on the side.
Note: Jicama is called shankalu in Bengal or kesaru or miskri kand in Bihar.