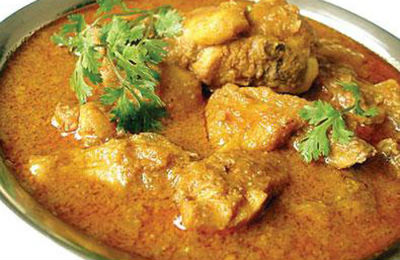 Ingredients:
Chicken – 500 gms, cut into medium pieces
Coconut Milk – 6 tblsp
Onion – 1, small, finely sliced
Turmeric Powder – 1/4 tsp
Cumin Powder – 1/4 tsp
Black Pepper Powder – 1/4 tsp
Green Chillies – 1 to 2
Cinnamon Powder – 1/8 tsp
Ginger Garlic Paste – 1 tsp
Vinegar – 1/2 tblsp
Tamarind Extract – 1/2 tblsp, thick
Water – 4 tblsp, warm
Salt as per taste
Method:
1. Mix the chicken pieces with salt and keep aside to marinate.
2. Mix and grind the cumin, pepper, cinnamon and turmeric powders, tamarind extract, green chillies with little water to form a paste.
3. Heat a pan over moderate heat.
4. Fry the onions till golden brown.
5. Add ginger garlic paste and fry for a few seconds.
6. Add the marinated chicken pieces and the ground masala.
7. Mix well.
8. Cover the pan with a lid.
9. Cook till the water has evaporated and chicken pieces are cooked.
10. Add warm water and cook uncovered for 5 to 10 minutes.
11. Now add the coconut milk and simmer till the gravy has thickened.
12. Add the vinegar and simmer again for a few minutes.
13. Remove and transfer to a serving dish.
14. Serve hot.