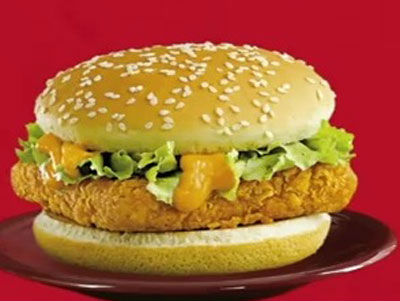 Ingredients:
Burger Buns – 2
Green Lettuce Leaves – handful, crisp
Paneer – 3/4 cup, grated
Cabbage – 1/4 cup, finely chopped
Corn Kernels – 1/8 cup, boiled
Walnuts – 2 tblsp, coarsely ground
Onion – 1/2, chopped
Maida – 2 to 3 tblsp + 2 tblsp
Vegetable Seasoning Powder – 3/4 tbslp
Oregano – 1/2 tsp
Mustard Paste – 1/2 tsp
Tomato Ketchup – 1/2 tblsp
Soya Sauce – 1 tblsp
Pepper – 1/8 tsp
Sesame Seeds – 2 tblsp
Water – 1/4 cup
For the herb mayonnaise dressing:
Mayonnaise – 2 tblsp
Coriander Leaves – 1 to 2 tblsp
Milk – 1 1/2 tblsp
Pepper – a pinch
For the vegetable seasoning powder:
Garlic Salt – 1 tblsp
Garlic Powder – 1 tblsp
Dried Onion – 1 tblsp, minced
Onion Powder – 1 tblsp
Salt – 1 tblsp
Method:
1. Mix all the veg seasoning powder ingredients and keep aside.
2. Mix all the herb mayonnaise dressing ingredients and keep aside.
3. In a bowl, mix the sesame seeds, 2 tblsp maida and 1/4 cup of water.
4. In another bowl, mix the paneer, cabbage, corn kernels, walnuts, onion, mustard seeds, veg seasoning, oregano, ketchup, soya sauce and pepper.
5. Divide the mixture into 2 portions and shape into round patties.
6. Dip each patty in the sesame-maida batter.
7. Heat oil in a pan.
8. Deep fry the patties for 2 to 3 minutes or till brown and cooked through.
9. Remove and drain excess oil.
10. Halve the burger buns and lightly butter one side.
11. Toast them on a pan till crisp on both sides.
12. Put the lettuce leaves on the bottom half.
13. Place a patty and spoon some herb mayonnaise mixture.
14. Cover with the top half.
15. Serve hot with ketchup.
Tip:
1. To keep the lettuce crisp till serving time, dip them in cold water.
2. You can also add onion rings, pickled jalapenos or cucumbers on top of the patty.