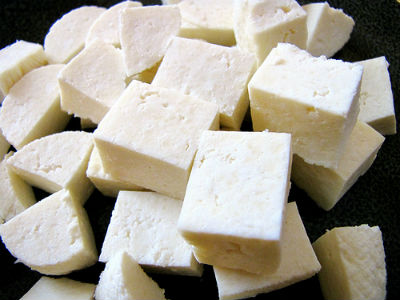 Ingredients:
Paneer – 600 gms, cut into squares or rectangles
Hung Curd – 5 to 6 tblsp
Cumin Powder – 2 tsp
Red Chilli Powder – 1 tsp
Tomatoes – 500 gms, boiled, skin peeled and pureed
Vegetable Oil – 2 tblsp
Green Chillies – 6 to 7, chopped
Garlic Cloves – 4 to 5, peeled, chopped
Salt as per taste
Clove Powder – a pinch
Mace Powder – a pinch
Cardamom Powder – a pinch
Method:
1. In a small bowl, add the cumin and red chilli powders.
2. Gently add the yogurt and whisk with a fork.
3. Add the paneer pieces and very gently mix to coat the paneer with this mixture.
4. Ensure the paneer pieces do not break.
5. Keep aside to marinate for 20 to 30 minutes.
6. Heat oil in a frying pan.
7. Add garlic, green chillies and tomatoes.
8. Cook over low heat till a sauce-like consistency is achieved and the raw smell of tomatoes goes.
9. Add salt as per taste and stir gently.
10. Heat a non-stick pan and add 1 tsp of oil.
11. Grill the paneer pieces till light brown.
12. Turn and cook the other side, ensuring the pieces do not break.
13. Remove and drain excess oil.
14. Transfer to a plate and pour the tomato sauce over.
15. Sprinkle the clove, mace and cardamom powder on top.
16. Serve as a snack.
Note: image is for illustration purposes only and not that of the actual recipe.