Milagai Bajji (or Chilli Bajji) is a very popular street food snack in South India and is a must have when people go to beaches especially in TamilNadu. These are also made at home as an evening snack and served with a chutney.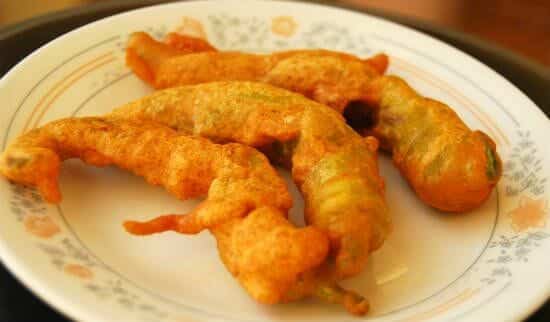 Ingredients:
Bangalore Milagai (also known as Bajji Green Chillies) – 12 (long and pale green in colour)
Oil for deep frying
For the Batter:
Gram Flour – 1 cup
Rice Flour – 2 tblsp
Salt as per taste
Method:
1. Slit the chillies lengthwise keeping stalks intact.
2. Remove seeds without breaking the chillies.
3. Combine the batter ingredients in a bowl.
4. Gradually sprinkle in 1/2 to 3/4 cup of water.
5. Mix to a smooth thick batter of pouring consistency.
6. Heat oil in a deep frying pan.
7. Dip the chillies in the batter.
8. Drop it into hot oil gently.
9. Lower heat and fry the chillies a few at a time, turning frequently, till golden-brown and crisp.
10. Remove and drain on kitchen paper.
11. Serve hot.
Note: These are hot and spicy and is not suited for those who cannot tolerate spicy foods.