This might not be the regular pakoda (pakora) that we are so often used to, but this still packs a punch. Simple to make and tasty (especially for those who love bitter gourds), this is an ideal teatime/evening snack.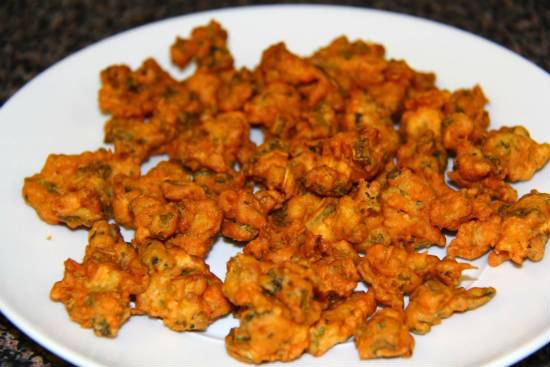 Ingredients:
Bitter Gourd – 3 to 4, depending on size
Red Chilli Powder – 2 tsp
Corn Flour – 2 tsp
Ginger Garlic Paste – 2 tsp
Saunf – 1 tsp
Plain Flour (Maida) – 1/4 cup
Rice Flour – 1/4 cup
Salt as per taste
Oil as required
Method:
1. Chop the bitter gourds into small rounds or pieces, discarding the seeds.
2. Combine all the other ingredients, except oil, in a large bowl.
3. Add enough water and mix well to a thick batter.
4. Add the chopped bitter gourd pieces and mix well.
5. Heat oil in a deep frying pan over medium flame.
6. Drop small portions of the bitter gourds into the hot oil.
7. Fry until light golden brown and remove.
8. Drain excess oil.
9. Serve with sauce or chutney.
image via YT video