A popular Thai dish with peanuts and chicken for lunch or dinner.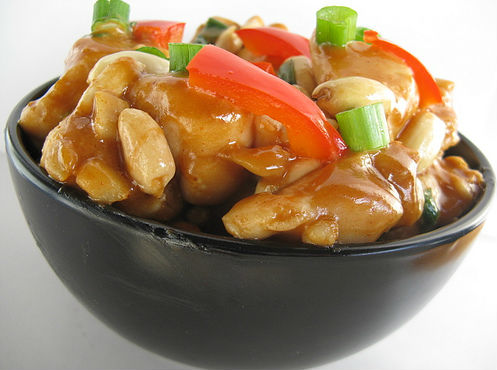 Ingredients:
Chicken Breasts – 125 gms, boneless, skinless
Peanut Butter – 2 tblsp
Soy Sauce – 1 tblsp
Lime Juice – 1 tblsp
Sesame Oil – 2 tsp
Garlic Clove – 1, crushed
Cayenne Pepper as per taste

To Serve:
Red Capsicum – 1, cut into strips
Basmati Rice – cooked
Method:
1. Mix the peanut butter, soy sauce, lime juice, sesame oil, garlic and cayenne pepper in a bowl.
2. Whisk until smooth.
3. Keep the chicken breasts in a shallow baking dish.
4. Drizzle the peanut sauce over the chicken and toss well to coat.
5. Cover and bake in a preheated oven at 190C/375F for about 20 to 22 minutes or until cooked.
6. Remove and transfer to a serving dish.
7. Serve with cooked rice and strips of capsicum on top.
image credit: blogchef.net