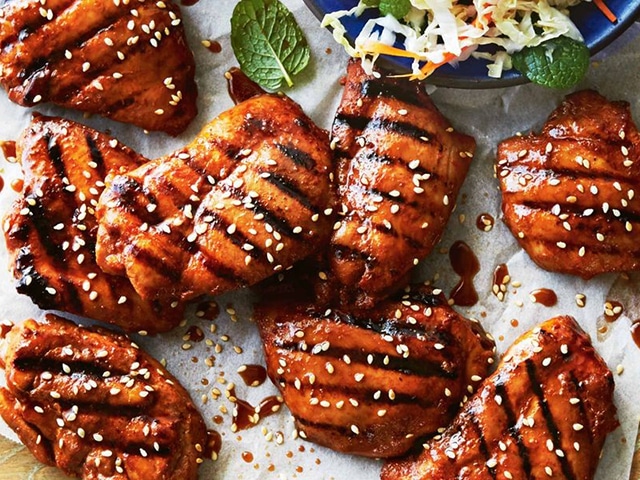 Ingredients:
Chicken Breasts – 250 gms, sliced
Oil – 1/2 tblsp + 1/2 tblsp
Spring Onions – few, chopped
Rice – 1 cup, cooked
For the marinade:
Rice Wine – 2 tblsp
Soy Sauce – 1 tsp
Korean Chilli Paste – 1 tblsp
Sugar – 1 tblsp
Garlic – 2 tsp, minced
Sesame Oil – 1/2 tblsp
Method:
1. Mix all the marinade ingredients in a pan.
2. Simmer over low flame until sugar dissolves.
3. Keep aside to cool and pour over the chicken strips.
4. Cover and keep them in the fridge for 45 minutes.
5. Heat 1/2 tblsp oil in a pan over medium flame.
6. Fry the marinated chicken until cooked.
7. Heat the remaining oil in another flat non-stick pan.
8. When it starts to smoke, add the chicken pieces and switch off the flame.
9. Transfer to a plate and garnish with spring onions.
10. Serve with rice.
image credit: taste.com