One of the most popular and famous offering from the city of Hyderabad, the Hyderabadi Naan (or also called as Munshi Naan) is a must have if you are in the city. Available in multiple shapes (square, rectangle or circe), it is best served with a side dish of choice, raita and a small salad.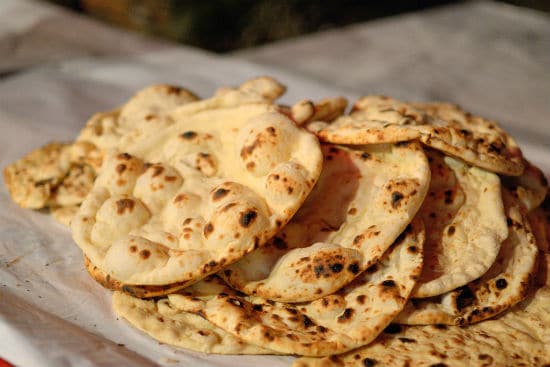 Ingredients:
Maida – 1 cup
Yeast – 1/2 tsp
Warm Water – 1/3 cup
Sugar – 1/2 tsp
White Sesame Seeds – 1/4 tsp
Ghee – 2 tblsp
Egg – 1, small, beaten
Oil as required
Salt as per taste
Method:
1. Mix the sugar, yeast and warm water in a bowl.
2. Mix well until the sugar has fully dissolved.
3. Keep it aside for 5 minutes or until the yeast starts to rise up.
4. Sieve the flour into a large bowl.
5. Add salt, ghee, curd and yeast mixture.
6. Mix well and knead to a soft, pliable dough.
7. Keep aside for an hour.
8. Knead again for a minute or two.
9. Preheat an oven to 200C for 10 minutes.
10. Make small balls of the dough and roll them out into a naan of 1/4 inch thickness.
11. Gently prick all over using a fork.
12. Place it on a greased baking tray (Use oil to grease the baking tray).
13. Brush the naan with the beaten egg and sprinkle sesame seeds on top.
14. Place it inside the oven.
15. Cook for 10 to 12 minutes or until brown spots start to appear on the top.
16. Remove and serve with side dish of choice.