A simple and quick pasta with mushrooms in a creamy sauce for lunch or dinner. Add vegetables of your choice if desired.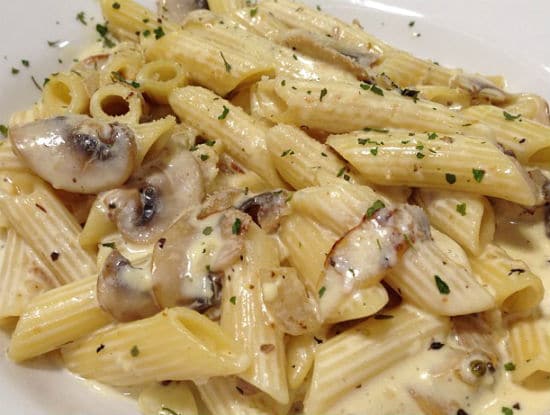 Ingredients:
Mushrooms – 6 to 8 (1/2 packet), chopped
Pasta – 1 cup (penne or spaghetti)
Zucchini – 1, small, finely chopped
Garlic – 1 clove
Black Pepper Powder – 1/2 tsp
Oregano – a pinch
Parsley (or Mint Leaves) – little
Olive Oil – 1 1/2 tsp
Salt as per taste
For the sauce:
Milk – 2 to 3 tblsp
Butter – 2 tblsp
Cream – 2 tblsp
Parmesan Cheese – 1 1/2 to 2 tsp, grated
Method:
1. Cook the pasta in a pan of salted boiling water for 10 minutes or until al dente.
2. Drain well and keep aside.
3. Heat butter in a pan over low flame.
4. Mix the cream and milk together. Add to the pan.
5. After 2 minutes, add the cheese. Stir well until creamy and saucy or for 5 minutes.
6. Heat oil in a large pan over medium flame.
7. Saute the garlic for 1 minute.
8. Add the mushrooms and zucchini pieces.
9. Cook for 2 to 3 minutes.
10. Add the cooked pasta and stir well for a minute or two.
11. Add the sauce and stir until evenly mixed.
12. Garnish with oregano, pepper powder and mint leaves.
13. Serve.
Tip: You can add any vegetables of your choice – capsicums, tomatoes, onions etc.
Subscribe to our Newsletter
Receive the latest recipes & kitchen tips !