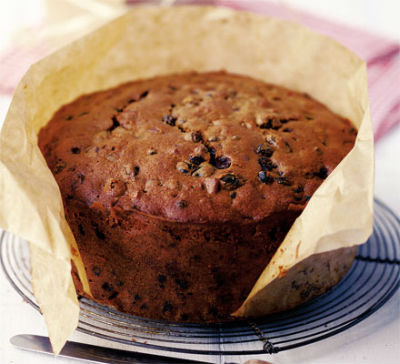 Ingredients:
Dry Fruits – 400 gms
Glaced Cherries – 5 tsp, rinsed, dried, finely chopped
Mixed Candied Peel – 5 tsp, finely chopped
Juice and Zest of 1 Small Orange
Maida – 110 gms
Nutmeg – 1/8 tsp, grated
Mixed Spice Powder – 1/4 tsp (mix of sweet spices commonly used in baking)
Butter – 110 gms, unsalted
Brown Sugar – 110 gms, softened
Eggs – 2
Almonds – 5 tsp, chopped
Brandy – 2 tblsp
Method:
1. Combine the dry fruits, cherries, candieed peel, brandy, orange juice and zest in a large bowl.
2. Mix well and cover with a kitchen towerl for 12 hours or overnight.
3. Sift the maida, salt, nutmeg and mixed spice powder together.
4. In another bowl, beat the butter and sugar till light and fluffy.
5. Add the eggs and beat well. If it starts to curdle, add a little flour.
6. Now add the flour mixture and mix.
7. Now add the reserved fruit mixture along with chopped almonds.
8. Mix gently until well combined.
9. Spoon the batter into a greased cake tin lined wwith parchment paper and spread it evenly.
10. Place the cake tin in a preheated oven at 140C and bake for 3 hours.
11. Insert a skewer in the centre and if it comes out clean, the cake is done.
12. Ensure the cake does not darken too much. If it stars to become dark, cover it with a sheet of baking paper.
13. Remove and cool.
14. Cut into slices and serve.