Kalakand is a popular and delicious Indian sweet made with paneer and condensed milk. Typically served as a dessert, they are made during festivals and special occasions like Diwali or Janmashtami.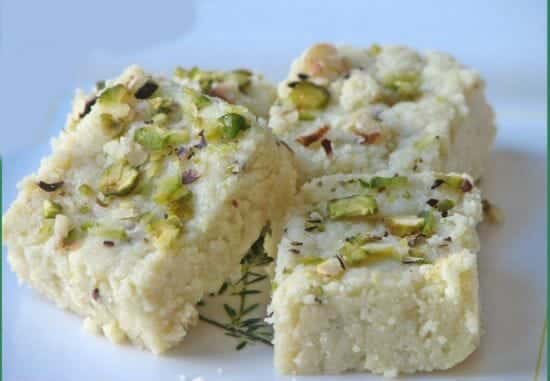 Ingredients:
Condensed Milk – 250 gms
Paneer – 250 gms
Milk Powder – 1 tblsp
Green Cardamom – 4
Cashewnuts – 1 tsp
Almonds – 1 tsp, chopped
Method:
Mix condensed milk, paneer and milk powder thoroughly.
Cook the above in a pan till it becomes thick.
Keep stirring to avoid firming up.
After thickening, spread on a greased plate.
Top up the sweet by sprinking green cardamom powder, cashewnuts and almonds evenly.
Cut into square shapes.